As an Amazon Associate, this site earns commissions from qualifying purchases. For more details, click here.
Venus flytraps are famous for eating insects, and while we know a lot about, there are still unanswered questions. One question that's often asked is do Venus flytraps have brains? I will answer that question definitively here.
Venus flytraps do not have brains, but it does possess short term memory. The plant releases calcium when its hair sensors are stimulated, allowing it to remember when prey landed in the trap.
Okay so you're probably asking: if Venus flytraps don't have brains, how can they have memories? How can the plant tell the difference between a live prey and a rock that just fell in the trap?
How Venus Flytraps Function without Brains
Venus flytraps have a complex biology. To understand how its memory works without a brain, let's examine how the plant works.
Venus flytraps secrete a fruity scent to lure insects. If a fly lands in the trap, it triggers the sensory hairs and the trap closes.
The plant secrets digestive enzymes to eat the trapped insect. After a week or two, the trap opens again leaving only the undigested remains.
The wind or rain will remove the remains and the plant awaits new prey. You can try this even with dead bugs and other food like Soil Sunrise Mealworms. Just stimulate the trap and when it shuts, the plant will eat.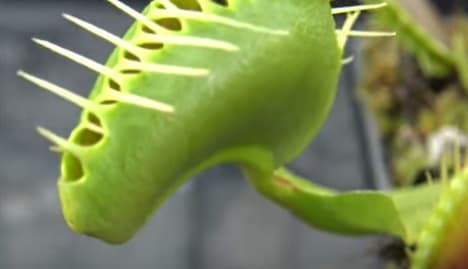 Leaves and Stimuli
Venus flytraps expend a lot of energy to make traps work (one reason why you should not touch it). Each trap can only close a few times so must only shut when there's prey. Otherwise the trap will close every time it rains or some debris falls into it.
The sensors on each trap react when something lands in the trap. If debris fell, one of the trap hairs will curl, but the trap will remain open.
If a bug falls in the trap, its movement will trigger more hair sensors and the trap will close.
For Venus flytraps to close, the hair sensors must be triggered multiple times. Inanimate objects can't do this, but an insect. This is how the plant distinguishes between the two.
But how does the plant remember whether its hair sensors were triggered more than once? The plant closes the trap after two triggers. If the hair sensors are triggered are five times, it releases digestive enzymes.
How Venus Flytraps Remember without Brains
Researchers have determined that calcium is what allows Venus flytraps to possess memory.
The scientists were able to prove this through genetic modification. They encoded a fluorescent protein (GCaMP6), which emits a green glow when attached to calcium.
By making Venus flytrap leaves glow in the dark, the researchers could monitor it.
Then they stimulated the hair sensors. What researchers saw in the glow was calcium being released after the sensors were triggered.
Repeated stimulation of the hair triggers caused the glow to spread, indicating more calcium. If enough stimulation was done in 30 seconds, the trap closed.
The scientists concluded that when a Venus flytrap's hair sensors are stimulated, calcium starts flowing. Repeated stimulation will cause the trap to shut.
Are Venus Flytraps Sentient?
No. A sentient being can think, feel and express emotions. Venus flytraps do not have a brain or a nervous system, which are essential to be sentient.
Because of the way Venus flytraps behave, some believe they are conscious. But there is no evidence to prove this assertion.
Even without a brain or nervous system, Venus flytraps act upon stimuli. This isn't the same as being conscious however.
When a Venus flytrap "follows" the light to get more exposure, it does so in response to the stimuli. The plant follows sunlight and indoor grow lights like Fecida.
Can Venus Flytraps Feel?
Venus flytraps are incapable of feeling because they do not have a nervous system. Nerves allow humans and animals to feel, but plants don't have these.
If Venus flytraps don't have nerves, why do they react to objects or insects that fall in their trap? Isn't that a sign of awareness?
The plant does react when something falls in their trap. But it does so because it responds to stimuli. As research has shown, the response of Venus flytraps are product of electrical pulses and calcium.
Related. Do Venus Flytraps Feel Pain?
How Do Venus Flytraps Move and Count?
While Venus flytraps are fixed to their spot, their traps can move. The more a trapped prey struggles, the tighter the trap gets. Yet Venus flytraps do not have muscles.
Venus flytraps also know how to count. If its sensors are only triggered once, the trap remains open. If triggered several times in 30 seconds, the trap closes.
Electrical Pulses
In a study published in Current Biology, researchers discovered that Venus flytraps produce electrical pulses when its sensory hairs are triggered.
The plant counts these electrical pulses and uses it to determine when to close the trap and when to release its digestive fluids.
The hair sensors resemble teeth, which makes the trap look like a mouth. Actually they are like a mouth and stomach. It swallows the prey like a mouth and digests it as well.
Risk Reward Analysis
While Venus flytraps can count, it doesn't mean they excel at math. It also doesn't mean they have any type of consciousness.
Instead we can think of this count as a product of its evolution. Venus flytraps grow in nutrient-poor areas and being able to count is essential.
You can think of counting as a rudimentary risk-reward analysis. Its traps can only close a limited number of times, the plant has to weigh the risk and rewards of doing so.
By counting, Venus flytraps improve the odds that the object in its trap is edible and beneficial. If it doesn't know how to count, it won't be able to tell the difference between prey and debris.
Frequently Asked Questions
Do Venus Flytraps enjoy their food?
No. Venus flytraps do not feel anything when they eat bugs. Carnivorous plants like Venus flytraps consume bugs not because it tastes good, but because it is a source of nutrition.
Venus flytraps grow in poor soil that lack these nutrients. So these plants evolved and developed traps to catch insects.
Are Venus flytraps aware?
They are aware of their environment, but most scientists do not believe they have consciousness.
This is the current stand of most scientists, though research is still ongoing. New evidence might come up suggesting plants have consciousness, but for now most researchers believe they do not.
How high can Venus flytraps count?
Current research shows Venus flytraps can count up to five. It might be possible for the plant to count higher but there is no evidence for it.
And there is no benefit for Venus flytraps to count beyond five. The plant uses this ability to discern between prey and non-edible objects that fall in its trap.
When something falls into the trap, it will trigger the hair sensors. If the object doesn't trigger the sensor again, the trap won't shut. This is how Venus flytraps can tell the object is an inanimate.
If an insect drops in the trap, its movements will trigger more sensors. If the sensors are triggered five times, the trap shuts. So there is no benefit for Venus flytraps to count beyond that.
Can Venus flytraps experience pain?
Venus flytraps and all plants cannot feel pain or any type of sensation because they lack a nervous system. Humans and animals have one which is how we can feel.
What we see instead is the plant response to stimulus. Venus flytraps are conscious of their response and do automatically.
If you drop a dead bug in its trap, the plant won't eat it. A dead bug cannot trigger the hair sensors. You have to stimulate the plant with a needle, paintbrush or other tool.
With enough prodding, the plant will close the trap and digest the bug. But it does not feel anything, only responding to the stimulation you provided.

My fascination with carnivorous plants began many, many years ago with Venus Fly Traps. Now I am more than happy to impart what I know with other enthusiasts and those who are curious about meat eating plants.